Hi all,
I'm moving to a new house in December and am looking for advice regarding AP placement.
- Will be for the next 10-15 years
- 5ghz in all rooms (maybe 6ghz after a couple of years)
- I already have an AP-AC-LR
Below are my considerations.
Floorplan: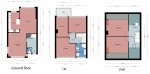 Consideration 1: Using in-walls, except for ground floor:
- Clean: no "ugly" accesspoints on ceiling
- Furniture that can possibly block signal
- Limited upgradebility: Limiting myself to in-wall solutions only
Consideration 2: Ceiling AP in each room
- "ugly" accesspoints on ceiling
- No blocking from furniture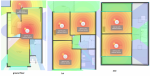 Consideration 3: Three ap's might be enough?
- Less interference
- Limited 5ghz, and especially 6 for future?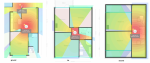 ..Or?