Dear All,
I have been using Asus routers for a long time and I had so many ideas and found solutions from SNB, so thanks a lot for all the efforts and information sharing.
This is the first time I am stuck at some point and looking forward to get help.
I have upgraded my old good RT-AC68U router for RT-AX86S expecting better VPN speeds and glad I did, new router is a good step up.
Coming to my issue, (I have read this issue in some other threads but un-solved) I am trying to flash original firmware to latest Merlin firmware (386.7.2) for mainly even better VPN utilization but I was unsuccessful.
When I manually upload the firmware, web Gui says; "Please wait, Applying settings" then immediately goes back to login page with nothing changed.
I rolled back to a previous official official firmware (
3.0.0.4.386_49
447) via rescue mode successfully (Also Web gui acts the same when I try to roll back to an older official firmware too), I assumed it was a glitch in the latest firmware (
3.0.0.4.386_49599
) and tried again but can't flash Merlin that way too.
As a side note, after rolling back to older official firmware and hard resetting router, at the configuration startup page it succesfully downloaded the latest firmware from Asus servers and updated itself(despite I was unable to do it via Web gui after configuration is done at my previous attempts)
I tried multiple hard resets, soft resets etc. with no success either.
I also tried with different web browsers (edge, firefox, chrome) with no luck.
Now, I am thinking if it would be safe to try force updating to Merlin firmware via rescue mode but I am scared to get the router bricked.
What would be your suggestions at this point?
Greatly appriciated in advance.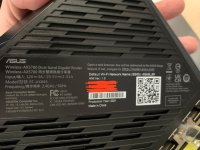 Last edited: