This is the third forum I've tried to get help with this question on. I need a bit of advice.
I recently had ATT Fiber installed. They said I must use their provided BGW320 Router, but I can switch it to just act as a Modem and run my own router.
Here's what I would like to do.
1) ATT BGW
- Acting as modem
2) ____ Router:
-- Eth01
192.168.1.1 - This block routed direct to the internet for my work PC (windows). This is to isolate it from the rest of my home network.
-- Eth02
192.168.2.1 - Mix of half a dozen Linux & Windows boxes routing all external traffic through a VPN Service (like nord or the like) setup on the Router
WiFi#1
WIFI LAN running the same IP Block as Eth02 for mobile devices (Cell/tablets) so these computers can access local file server & Network printer.
192.168.3.1 -
WiFi#2
Guest Wifi network for visiting friends. This too isolated from my home network.
The sales guy at Microcenter said any of these 3 would work great with #1 being the preferred and #3 the least.
$99.99
Get it now! ASUS RT-AC86U is the ultimate choice for gaming, with blistering 2917Mbps Wi-Fi speeds, MU-MIMO technology and powerful game-boosting features including the WTFast game accelerator and Adaptive QoS. Enjoy low-latency online gaming with boosted internet and home network performance!
www.microcenter.com
$99.99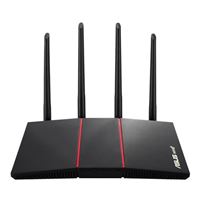 Get it now! Asus RT-AX55 supports the latest Wi-Fi standard 802.11AX (Wi-Fi 6) and 80MHz bandwidth for better capacity and efficiency. RT-AX55 supports 80MHz bandwidth and 1024-QAM for dramatically faster wireless connections. With a total networking speed of about 1800Mbps 574 Mbps on the 2.
www.microcenter.com
$49.99
Get it now! Powered by 5G Wi-Fi and 256QAM technology, the 802.11ac chipset gives the RT-AC67P faster wireless speeds than N technology. At 2.4 GHz, it reaches 600 Mbps, while on the 5GHz band it blazes to 1300 Mbps. The upgraded bandwidth has the higher capacity you need to increase WiFi...
www.microcenter.com
I was a little confused by this as #2 has the quad core so I would have assumed it to be the more powerful router.
I'm a fan of ASUS mobo's so that's why I was primarily looking at asus routers but if there are better options I'm happy to look at those instead.