Hi all,
I am encountering weirdness and I'm not exact sure which specific forum to post to so choosing to start here. Feel free to redirect me to somewhere else more appropriate if necessary.
In the office, we have an RT-AC86U that was originally running Merlin firmware 386.2_6 without issues until the office started complaining about flaky wifi connections that may / may not be related to the router and which I am choosing to ignore for now to concentrate on this problem. I then upgraded the router to 386.3_beta2 a week after it became available and moved to 386.3 when that became available last week. These were "dirty" upgrades ie. I did not reset the router to factory default after doing so. Some strange was happening on the GUI that initially had me thinking we had internet connectivity problems but I eventually worked out we didn't and our connectivity was fine.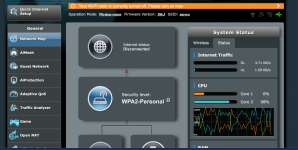 The problem - The ASUS GUI says the Internet connection is down even though there is both inbound and outbound traffic going through our WAN connection as shown in our screenshot. The WAN LED on the front of the router is "white" and flashing furiously ie. the connection is up and active. Any person ill tell you that if it ain't borked, don't fix it but as I am anally retentive and OCD, that "disconnected" Internet Status message is a little disconcerting.
Waiting for spare equipment to be delivered before I started doing a factory reset of this router but wondering if any others have seen this or has an idea what's happening. Feel free to ignore the fact that I have disabled WIFI on the router as that has been so from Day 1 as we use alternative WIFI equipment.
Your help and comments very much appreciated. Thanks.