Guys I need your help, I've been having issues for a long time now, tried everything to fix it without success.
I have a ADSL2+ connection 12 down, 1 up. SNR margin is very high, at around 14db. My ISP is very conservative, this should be good for 15/16mb.
Without QOS, it's IMPOSSIBLE to play any game if there's an upload/download going on, with crazy packet loss and 1000ms spikes. With QOS it's much improved, but i still have spikes of 100ms when a download starts, it stabilizes right after, but if there are burst of downloads I get those spikes constantly and it's a really bad experience. A client watching Netflix is enough for this to happen, as it uses max bandwith for a while, stops and starts again.
If I run DSLreports while another client is using upload/download I also get a lot of re transmissions and a bad Quality score.
Without qos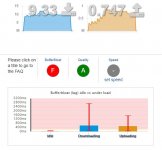 Cake-qos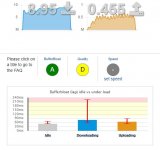 Upload was being used by another client on both tests. The download ping spike you see on dslreports with cake on happens every time a download burst happens, if the download has a stable speed ping is stable. If it bursts ping spikes a lot.
What can i do to improve this, should I get an EdgeRouter to take care of QOS or a new ADSL modem? My ISP said there are no issues with my line. AC86U is connected to the ISP's router, tg784 v3 (bridge mode).
Last edited: