I just got the RT-AC86U. The very first thing I did was flash to latest Merlin firmware 386.2_6. I didn't even know I was supposed to do a factory reset after flashing to different firmware but I'll do that later. I have several questions. First one is should I even use Merlin? I read some older threads that said some versions of the stock firmware were more stable and secure than Merlin. Is that usually the case? Which firmware gets updated more?
Another question is QOS. I never used it before (except for traditional which is trash) and I don't know which one to pick, Adaptive, Flex, or Cake. I noticed Cake was already included in the QOS settings. Is this because of Merlin or is it part of the stock firmware also? My d/l is 200Mbps and u/l is around 15-20Mbps. I'm inclined to go with Adaptive because I like the idea of prioritizing categories but I read that Adaptive is merely ok and that Flex is a much more polished version of Adaptive. So is the choice really between Flex and Cake? If your bandwidth was completely saturated which one would make it least noticeable?
I see many threads where people are talking about fq_codel and sfq options in the QOS settings but I don't see them in mine.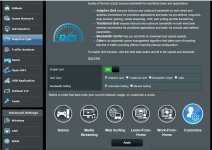 I'm concerned about privacy issues with AIProtection like a lot of people. If I use a VPN (not through the router) will that still send data to Trend Micro?
Sorry for all the questions. There's just so many options in this router.