I have an RT-AX88U and I am running Merlin
386.2_6
Koolshare edition. The problem is that on my main PC I am not getting full download speeds. Every other device at home is getting faster speeds than my main gaming pc. I am not sure where the bottleneck is.
When I run speedtest on the router itself I am getting this:

But when I run speedtest on the computer I am getting this: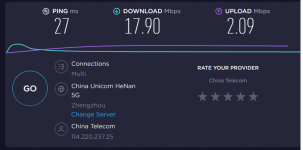 On the same server and everything. I have changed the DNS. I have tried using a type-c ethernet adapter, disabling QOS. But doesn't matter what I do the download speeds on this computer are always limited to around 2mb/s.
I am totally at a loss of what the issue can be.