So while the network was down to upgrade firmware I decided to peel apart my 86u and check out the heatsink construction after other users complained of higher temps on 386...
To my surprise the construction of my 2018 build unit with PCB rev 1.5 was visually quite different than the article about this router on
SNB
. The large rf shroud around the wifi chips and cpu was certainly surprising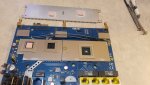 Anyway, to my dismay instead of machining a heat sink to close the gap between the heat sink and the chips they opted for 2.5mm thermal pads
(typical for budget heat sinks)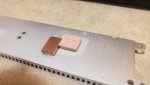 I had a piece of 3mm copper stock that I probably could have thinned out more for a proper fit but I decided to wing it. Couple dabs of thermal paste and gentle reassembly and the results were, well.... substantial
Ambient 22
My 56 day uptime idle temp was 74-78deg on 384.19
1hr idle temp on 386.1 with copper mod.... 60deg
Added a 80mm fan above the lanports drawing air out of the case... well just look
Once 386 goes stable I may cut up more copper and do the wifi chips as well...
Update, disclaimer, read post 25
Remember this a warranty voiding MOD/HACK and like all physical mods/hacks it comes with its own inherent device killing risks. You've been warned.
Last edited: