Hi guys. Here's another strange problem that I started experiencing with my new Asus router.
1. After I unboxed it, I updated to the official firmware GT-AX6000_3.0.0.6_102.
2. On the same day, I flashed Merlin: 388.2_2.
Everything worked fine for a few days (except some little bug with my Realtek 2.5Gb drivers on Desktop PC).
4. Yesterday, I decided to restore the factory settings
, directly on Merlin 388.2_2. I thought it would be better to clean everything up after having fun for the first few days.
Instantly after the factory reset, I noticed that my NAS 2.5Gb USB adapter is crashing with error: "
transmit queue 0 timed out
". I spent almost entire day trying to fix on the NAS side (since I was trying different drivers for realtek-r8152 drivers before).
I ended up restoring the full system image backup from April 2023 which I am 100% sure that worked flawlessly without issues for weeks without restarts. Unfortunately, nothing helped:
5. I started restoring factory settings on the older, official Asus versions, without uploading backupped settings. Unfortunately, nothing helped. This error was extremely easy to reproduce, because I could trigger it faster by starting wireguard (but of course it still occurrs without wireguard running).
This is how "
transmit queue 0 timed out
" error looks like: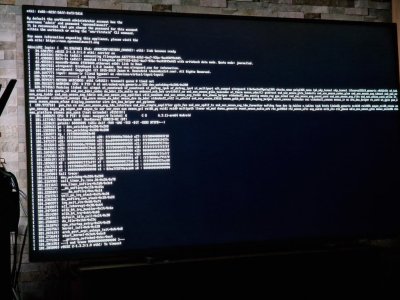 The worst thing is that my NAS freezes / crashes fully when this
r8152
driver has a problem.
6. Searching for more information about this problem, I found this thread:
https://bugzilla.kernel.org/show_bug.cgi?id=216884
timo 2023-03-12 15:25:15 UTC
Sorry for the confusion; my reply was clearly posted in the wrong thread.

In my case, the errors happened when I connected a wireless router (TP-Link Archer C9) to these NICs of my server. Initially, I thought the error was in the Linux kernel of the server. However, I have recently replaced the wireless router by a different model and since then, I don't see the 'transmit queue 0 timed out' errors anymore. Not sure what happened; maybe the old device was sending repeated pause frames? Anyhow, it seems to be solved.
7. I decided to connect my old router (Xiaomi AX6000), also with the 2.5Gb LAN port.
Voila! The problem is fully gone. Nothing bad happens.
I decided that GT-AX6000 is not worth the money if there are firmware bugs like this one. I know it probably doesn't affect most of users, but in my case the problem is 100% the router, and I'm sure it started happening after restoring the factory settings on the newest version. There must be something really wrong, possibly related to this?
https://www.asus.com/support/FAQ/1050466
I'm going to test how my NAS runs on the old router for the next 24h, and then I'll refund GT-AX6000, since it's too risky to keep that device for me
I really liked that Asus routers allow a lot of configuration settings, but I can't always worry about errors of this type
Anyway, has anybody heard about something similar recently happening?