Hey everyone. Found this forum while researching routers but I wanted to get people's opinions on my situation specifically because of the knowledge here.
Specifics:
- 1200 sq ft single story house with relatively thick walls. We have a basement that isn't currently used for recreation purposes but will in the future. Furthest distance WiFi is used is roughly 65ft from the host
router.
-Home security system with one outdoor camera and doorbell camera.
-I have 1.2gb fiber optic internet and get speeds in each room in the house that average around 250/250 30-65 ft from the host router and 800/700 15ft from it.
-It's a Nokia ONT connected to an Eero 6 pro router. 1 beacon 55ft away in the back corner room.
- We have 9 devices. 2 phones (S21Ultral and Note9). 1 laptop with casual use and podcasting. 1 Chromebook with casual use. 1 smart tv (will be hardwired with more ports). 1 PS5 (hardwired in with 950/500 avg). 2 Rokus. 1 security system (2 cameras) as mentioned above. Just the two of us using devices at the same time.
- I know if it's running well, don't fix it but it's a rented router. I want full access to the settings and use of VPNs and I can't do that currently which is the reason for the change. I'm looking for same performance, if not slightly better if I can find it. Trying to keep everything below 400 if possible.
Because of all this and the discussions on here, I've narrowed it down to an ASUS router, specifically the AX86U Pro but I did see the 88U Pro coming out and was wondering if that would be better or if there were better suggestions.
Thanks in advance for reading and replying. Looking forward to the discussion.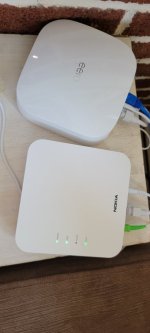 Last edited: