Asus RT-AC68U with Merlin 386.1_2.
The provider broadcasts IPTV via multicast.
The router has the following simple settings for IPTV: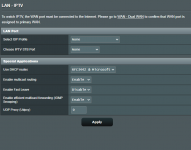 I have two mediaplayers in this network: one connected by cable and one - by WiFi. Both are the same in the meaning of model, firmware and settings.
Both shows a good connection (in meaning by speed) and good video playing (for online cinemas)
Cable connection works like a charm for IPTV.
WiFi connection shows freezes after 20-30 seconds of playing IPTV.
Taking into account all circumstances I think the problem is in router.
I've tried to disable multicast routing at all and to enable UDP Proxy. But in this case IPTV is a nightmare at all - I think router has no resources to work in proxy mode.
Any other advices?
I'm attaching Wireless settings just in case: